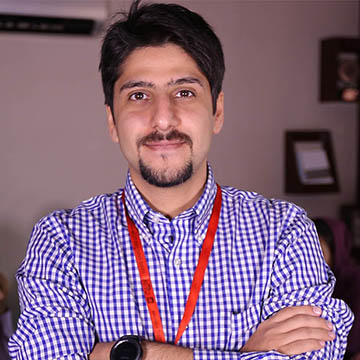 me@amirdez.me
About Me
An enthusiastic technical problem solver with over 9 years of experience. I'm always looking forward to learn and tech everything to others. Known as Team Player with a keen affinity for a quality result, who works well under pressure, and exudes positivity and has with good communication and analytical skills. 
e-mail

me@amirdez.me

Skype

adezfulian@live.com

Location

Germany
Resume
WORK EXPERIENCE
2021 - Present
imc Learning
Senior Technical Consultant
DevOps Engineer
My role & responsibilities:
Administration of Azure DevOps Server (New TFS Server)
Administration of Docker Hosts on-premise
Making Docker-Compose for variety of scenarios
Converting Existing Projects to Git repo (TFS to GIT)
Setting Up NEXUS repo manager as Docker Container
Proven ability to work well in a crisis and under pressure
Making our SaaS infrastructure Multi Datacenter
Powershell Scripting for Post Build action in CICD Pipelines
Bash/Python Scripting
creating set of tools for making CICD Pipelines come true based on our very complex scenarios
Using Terraform for build docker container on the fly with one click
Getting our SaaS platform ready for Grafana
Information Technology Technical Consultant
My role & responsibilities:
Analyzing Current IT system and Flows based on ITIL and ITSM
Diagnosing IT system problem, inefficiencies and weakness
Manage installation and setups of solution, updates and data flow
Provide advice on technology and best practices
Provide advice on security structure and best practices
Monitoring the success of IT solutions deployment
Senior Technical Support Specialist
My role & responsibilities:
Find solutions to new technical problems that have not been seen before, disorders found Storage Infrastructure (SAN, Local RAID Controller, DAS, NAS), Or HyperVisor Layer (such as VMWare, KVM), Network layer such as Firewalls (MikroTik, Kerio, …), WAFs (FortiWeb, F5-BigIP, ArvanCloud, …) and operating systems (Linux, Windows) and finally Database Severs (MS-SQL, REDIS,..)
Design and implementation of High Availably and Disaster Recovery architectures for software
An eye for security issues (server hardening, OTP, SSL, VPN)
Direct communication with the development team to improve the software implementation conditions and modify the technical parts of the software for communication with external systems, MailServers, APIs
Modify Software installation tools and processes
Prepare Draft Proposals, Contracts, SLAs Selling Cloud-Based SaaS Product for the first time, and Combine and Create Tools for making it happen and now we are one of the best ERP providers in Iran that is cloud-friendly
Provide LOM for server and Technical architecture for Enterprise customers who have a large number of users, including Database Cluster, Web Traffic Load Balancers, and Multiple Server Farm, WAF, Firewall, Cold and Hot Disaster Site Implementation.
High availability With Microsoft AlwaysOn for SQL Server
Web Traffic Load Balancing with KEMP, ARR, NGINX, DNS, ArvanCloud
Technical Support Specialist
All of our thousands of customers used our on-premise version, it was our team's duty to maintain the servers and implement the HA/DR architectures and adapt that architecture to the customer's infrastructure.
2014 - 2016
Jahanpars Group
Network Engineer
As a network engineer in one of the refinery construction projects
establishing always-stable connections between the project site (which was placed of the gird) and the Internet and the company's headquarters in Tehran to transfer highly sensitive data to the Employer

We used a Mesh and Multi-Uplink Point-to-Point architecture, OSPF Routing to achieve requested Uptime.

very attractive for me to engage with the technical challenges to achieve the SLA desired by the Employer.
Cloud Hosting Expert
Investigating SQLServer over VMWare problems while, using Golden Templates to solve most of the identified problems I upgraded my SQL Server Administration skills to meet the needs.
2013 - 2014
Maroon Karan Co.
Network Engineer
Because of the clutter and lack of standards, the first thing I planned was to create MPLS trunks using OSPF between data centers
creating security layers on the Edge of the network.
Network Engineer
Here, most of the manpower was spent doing repetitive tasks in the network configuration of network devices such as Cisco, Dlink, MikroTik, Juniper, where I tried to create a central result-oriented process and have all the settings integrated into predefined scripts.
made documentation for our standards and procedures of the networks and infrastructure devices.
Creating integrated monitoring problems such as hardware failures and routing problems OSPF, BGP, MPLS
Education
2014 - 2018
IAU Qazvin Branch
Master's degree - Information Technology Engineering - Computer Networks
Thesis Title: Smart Distributed HTTP Load Balancer Based on Web Servers Load by Software Defined Networking (SDN)
2008 - 2012
IAU Mahshahr Branch
Bachelor's degree - Information Technology Engineering
Research on Cloud Technologies
Communication
Decision Making
Eager to learning
Multitasking
Networks
Working under pressure
Problem-Solving
ITIL Certified
Office365
PHP
C#
Docker
GIT
Jenkins
NGINX
Bash
Python Scripting
Powershell
LPIC
Amazon Web Services (AWS) cloud practitioner
MYSQL Administration
MS-SQL Administration
CCNA
MikroTik
VMware Certified Advanced Professional
VMware Certified Professional
Active Directory
CloudOps